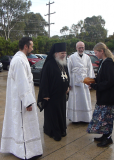 On Saturday, 20th May 2023, His Grace Bishop Luke of Syracuse, arrived at Melbourne airport where he was greeted by the Holy Protection Cathedral clergy. That evening Bishop Luke served the All-night vigil at the cathedral.
The following day, the 6th Sunday of Pascha, the healing of the blind man, His Grace was greeted at the Holy Protection Cathedral with bread and salt and officiated the Divine Liturgy. Concelebrating with Bishop Luke were the cathedral clergy, Archpriests: Nicholas Karipoff, cathedral rector, Nicholas Dalinkiewicz, Peter Sheko, Priest Mark Woloszyn, Protodeacon Alexander Abramoff and visiting clergy Archpriest Peter Shashkoff.
After the service, Bishop Luke made his way south to Geelong where he spent a few days visiting the parish Joy of All Who Sorrow.