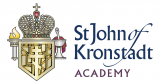 Dear brothers and sisters,
With the blessing of His Grace, Bishop George, an important project is underway to establish the first Orthodox school in Brisbane and the first classical Orthodox school in Australia – the St John of Kronstadt Academy. This project is being led by Fr Stephen David from Holy Annunciation with the aim of being open to students from Preparatory to Year 3 in 2024, subject to formal accreditation.
The Academy will provide its students with an education in the liberal arts and the great books but within the context of Christ, His creation and His church. The aim is to develop and grow students of Christian wisdom and virtue and ultimately to cultivate saints.
The Academy has now begun its fundraising drive to raise $550,000 for establishment cost for items like desks, chairs, books and the many other items necessary to be open by January 2024.
The Academy has released a fundraising video on its YouTube channel that provides more detail and can be viewed here.
Please support this important initiative by making a donation to the Academy through its donorbox page.
For more information on the Academy, please visit its website at www.stjohnacademy.com.au and the Academy Facebook page.
Please remember the Academy in your prayers.
Priest Stephen David