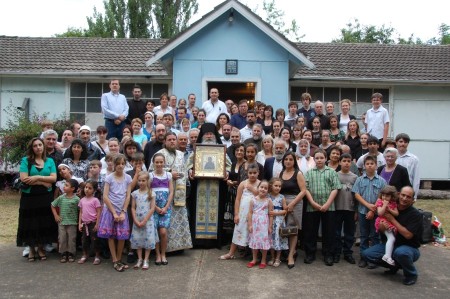 His Eminence Metropolitan Hilarion was prevented, because his duties as First Hierarch, from attending the recent patronal festival of the old monastery Church of All Saints at Kentlyn on the Sunday of All Saints.
However, His Eminence has graciously offered to serve Hierarchical Divine Liturgy in All Saints Church on Monday the 7th of June, being the commemoration of the 3rd Finding of the Precious Head of the Holy and Glorious Prophet, Forerunner and Baptist of the Lord, John.
Hieromonk Joachim and the Skete congregation invite all friends and supporters of St John the Baptist Skete to attend.
9.00 am – Reception of the Metropolitan, Hours and Hierarchical Divine Liturgy followed by Cross Procession in honour of the Holy Forerunner
12.00 noon – Festive luncheon in the Community Hall of the adjacent KentlynGardens Retirement Village.