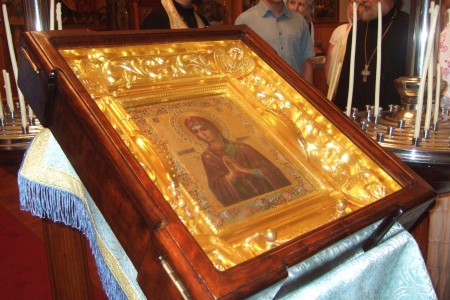 The diocese of Australia and New Zealand is blessed to have the miracle working myrrh-streaming icon of the Mother of God "Softening of Evil Hearts" visit from Monday 14 February 2011.
On Monday 14 February 2011 there will be a moleben served at the
Church of All Russian Saints, Croydon, at 11am
after the arrival of the holy icon from the airport.
For the Vigil on the Feast of the Meeting of the Lord, 14 February 2011, the holy icon will be present for veneration at
Saints Peter and Paul Cathedral, Strathfield, at 6pm
A schedule of further services and parish visits will be announced soon.
For more information about the holy icon, please visit the website: Spasi Nas