A report from Indonesia on the distribution of aid donated by parishes, clergy and parishioners of the Sydney, Australia and New Zealand Diocese for the victims of the 2010 Mt Merapi volcano eruption.
The active volcano Mount Merapi on the Indonesian island of Java erupted on the 25th of October, 2010. It spewed hot gases and ash as far as 5,000 meters into the atmosphere, wreaking havoc on surrounding villages and farms, and disrupting air travel. Many hundreds of people were killed, and at least 350,000 fled their homes, and many of these cannot yet return because of the danger of further eruptions.
Two of our Indonesian priests, Father Markus Wiyono and Father Barnabas Elu van Basten have parishes and mission centres in this area. With their parishioners they are actively involved in assisting those still affected by the disaster and providing emergency relief to homeless refugees.
In November 2010 Friends of Indonesia-Australia (FOI-A) made an appeal to the parishes of the Sydney, Australia and New Zealand diocese to help the refugees. Thanks be to God as at the 5th of February AU$4990.55 has been raised and FOI-A thanks all those who contributed.
The first portion of this money was sent to FOI-A's Financial Advisory Committee in Jakarta who have the responsibility of distributing the funds raised in Australia.
In early February 2011 two of the members of the Financial Advisory Committee, Mr Mikhael Anak Agug Gde Raka and Mrs Elizabeth Koesoemo travelled from Jakarta to the disaster area in central Java to meet with the local clergy of the Indonesian Orthodox Church (GOI), assess how FOI-A could help, and to hand over the first instalment of the donations collected in Australia.
Mikhael and Elizabeth, parishioners of St Thomas Orthodox Church (GOI) in Jakarta, have submitted the following report of their trip describing what they found in the devastated area and how the donations from Australia will be spent.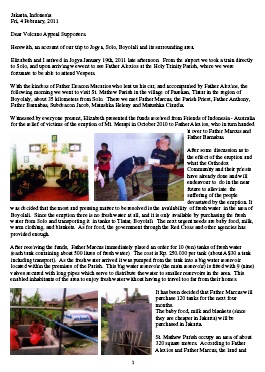 Donations for the assistance of the refugees are still being accepted as the need is ongoing. Please send your cheque or money order to Friends of Indonesia-Australia, 57 Crown Street, St Peters, NSW 2044 or via direct deposit to our bank account Friends of Indonesia-Australia, Commonwealth Bank, Burwood, NSW, BSB 062128 10499901
With the blessing of His Eminence Metropolitan Hilarion, Friends of Indonesia-Australia was established in July 2010 to aid the priests and parishes of the Indonesian Orthodox Church (Gereja Orthodox Indonesia – GOI) who make up the Indonesian Deanery of ROCOR's Sydney, Australia and New Zealand Diocese.