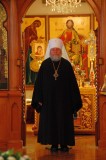 On 21 October/03 November 2011 on the occasion of his Names Day (the commemoration of Saint Hilarion the Great, Saint Hilarion of the Kiev Caves and Saint Hilarion, Metropolitan of Kiev) His Eminence Metropolitan Hilarion, First Hierarch of the Russian Orthodox Church Outside of Russia, celebrated the Divine Liturgy in the Diocesan Cathedral of the Holy Apostles Peter and Paul.
Serving with His Eminence were His Grace, Bishop Irinej of Australia and New Zealand of the Serbian Orthodox Church and 11 priests and 5 deacons.  His Grace Archbishop Gabriel of Montreal and Canada prayed in the altar.
At the Little Entrance Deacon Martin Naef of All Saints of Russia Church, Croydon, was awarded the double orarion for his zealous service to Christ's Holy Church.
After the Divine Liturgy all present were invited to the church hall for brunch organised thanks to the efforts of the parish sisterhood.