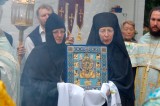 The Convent of our Lady of Kazan, "New Shamordino", in Kentlyn, celebrated its Feast Day on 22 October / 4 November 2011.  In the morning the Blessing of Water was celebrated by Hieromonk Euthemy with Protodeacon Herman Polorotov.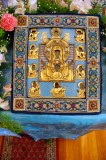 Soon after the blessing of water the ringing of bells signified the arrival of Eminence Metropolitan Hilarion, First Hierarch of the Russian Orthodox Church Outside of Russia.
His Eminence served the Divine Liturgy together with His Grace Archbishop Gabriel of Montreal and Canada and six priests and three deacons.
At a "Mercy of Peace" the spiritual joy of the parishoners was greatly increased by the arrival of the wonder-working Kursk-Root Icon of the Mother of God with it's guardian Deacon Nicholas Olhovsky who were brought to the Convent directly from the airport by the Dean of New South Wales, Archpriest Nikita Chemodakov.
The Holy Kursk-Root Icon will remain in the Australian and New Zealand diocese until December 7.  A schedule of planned  parish visitations is available here.
After the Divine Liturgy everyone was invited to lunch in the convent hall.