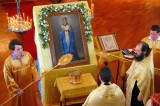 Saint Innokenty lived during the reign of Tsar Peter I and became the first bishop of the Diocese of Irkutsk. He taught reading and writing to the local Buryat children, painted icons, built chapels and churches, prayed and preached.
As Priest Alexander Abiduev of Holy Trinity Church in Ulan-Ude, Russia, explained, "After a fire in the church of Voznesensky Monastery, where he was buried, though the church was burned to the ground, his relics were unharmed and discovered to be incorrupt. When he was to be re-interred, it was found that even his vestments survived. The local believers began to notice miraculous healings and miracles occurring from his relics.  When people saw this, they started to pray to the saint, and many of their pleas were answered. With time, this led to the decision to canonize him and count him among the saints."
Now, the Orthodox Christians of Australia are being given on opportunity to venerate his relics.  On February 5, 2012, his reliquary arrived at the Cathedral of Saints Peter and Paul in Strathfield.  News of its arrival spread quickly two days before, and the parishioners of several local Orthodox churches came to the divine services.  The visitors also saw the new mosaic installed over the entrance to the cathedral, created by Archimandrite Alexei (Rosentool).
On February 11, the relics of St Innokenty will visit the Orthodox churches of Brisbane, and on February 14-15, to Melbourne and Dandenong.