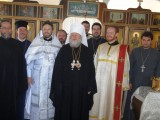 On 10-11 February 2012 His Eminence Metropolitan Hilarion made an archpastoral visit to the Holy Annunciation Parish, celebrating Vigil and Divine Liturgy and ordaining Andrew Smith to the rank of Deacon.
The Holy Relics of Saint Innokenty of Irkutsk were also present in the church for veneration.
Deacon Andrew is assigned to the Holy Annunciation parish.