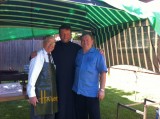 The Church of All Proclaimed Saints of Russia in Croydon, Sydney, chose the Sunday of the Prodigal Son, and the Feast of the Three Hierarchs to hold it's annual 'shashlik' (kebab) fundraiser.
Perhaps the timing was not the best because it turned out that the event clashed with a few other orthodox luncheons and so Sydney's Russian Orthodox Churchgoers were torn between various events.
Thought the turnout was small compared to previous years, the event was a success. The meat used was premium lamb and the accompaniments and beverages on offer were also of high standard. People willingly supported the event with generous donations and the small parish was grateful for the financial assistance.
Clergy in attendance were Frs Michael Li, David Lloyd, Constantine Moshegov and Martin Naef of Croydon, and Frs Simon Nekipelov and Alexander Kotlaroff of the Catherdral. The ongoing support of the clergy of our wonderful city's Cathedral in Strathfield was very much appreciated.
Though there were heavy rains and gale force winds the afternoon before the event, we were blessed with wonderful, moderate but sunny weather for the occasion.