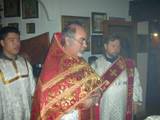 On the day of the holy martyrs Hermylas and Stratonicus (Australia Day according to the secular calendar) His Eminence Archbishop Hilarion of Sydney, Australia and New Zealand served an English language Liturgy in the Archbishop's Chapel of All Saints of Russia, Croydon. Serving with him were: Mitred Archpriest Michael Li, Priest James Carles, Protodeacon Alexander Kotlaroff and deacons Constatine Moshegov, Alexei Dyuka and David Lloyd. On this occasion the sacristan of the Archbishop's Chapel, Archpriest Michael Boikov, conducted the choir.
At the appointed time, after the Cherubimic hymn, Vladyka Hiilarion ordained Deacon David Lloyd to the priesthood, and after the Epiphany hymn to the Birthgiver of God he ordained subdeacon Martin Naef to the diaconate.
The newly ordained clerics will be serving in different areas. Priest David is assigned to the clergy of St. Michael's church in Blacktown, but will be, for the time being, serving in St. George's Church under the supervision of Priest Alexander Korjenevski. The new Deacon Martin Naef has been appointed to the St. Panteleimon church in Gosford and occasionally will be serving in the Archbishops Chapel.
Let us wish both new servants of Christ's Church God's help and all that is good from the Lord.
AMB