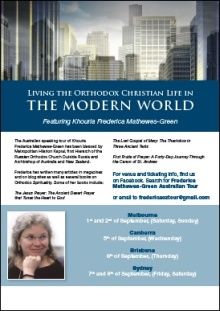 Schedule
Melbourne – 1st of September
Holy Protection Cathedral (ROCOR)
1-7 Albion Street, East Brunswick
Refreshments (Russian Fare) available, 2:30pm-4:30pm,
Break with Vespers at 6pm followed by second part finishing at 8:30.
Melbourne – 2nd of September
St.George's Antiochian Parish
28 Shaftsbury Parade, Thornbury. 2pm-4pm.
Canberra – 5th of September
will be confirmed soon…
Brisbane – 6th of September
Queensland Russian Community Centre
19 Lotus Street, Woolloongabba. 6pm-10pm.
Sydney – 7th of September
Sts.Peter and Paul Cathedral (ROCOR)
3-5 Vernon Street, Strathfield. 7pm-10pm.
Sydney – 8th of September
St.Nicholas Antiochian Parish
11 Henry Street, Punchbowl. 4pm-7pm.
Ticketing Information
$25 per Adult and $10 per Student or Concession
Here is your opportunity to book early and ensure a seat to hear Kr. Frederica speak on
'Living the Orthodox Christian Life in the Modern World.
Direct Deposit into this Account:-
Russian Orthodox Church (Abroad)
BSB: 063010 Acc: 10055119
please enter these codes into the reference for payment
1st Sept, Brunswick (Melbourne) – FMG1
2nd Sept, Thornbury (Melbourne) – FMG2
5th Sept, Canberra – FMG5
6th Sept, Brisbane – FMG6
7th Sept, Strathfield (Sydney) – FMG7
8th Sept, Punchbowl (Sydney) – FMG8
and at the end of the reference code please add your first initial and last name, plus the number of people you are making payment for.
e.g.: FMG7JCitizen12
Further, email your transaction reference number to us with your details to fredericaoztour@gmail.com so that we can issue you with an E-ticket.
Once speaking dates are sold out, a notice will be posted on this Facebook page. Any unsold tickets will be available for purchase at the door on the day of the event.