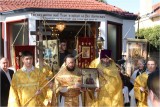 On Saturday 15/28 July 2012 the Saint Vladimir Parish in Centennial Park, Sydney celebrated its Feast Day with a large number of clergy concelebrating with the rector Priest Daniel Metlenko. After the Divine Liturgy everyone was invited to the church hall for a festal meal.
Saint Vladimir Church is the oldest Russian Orthodox Church in Sydney and the second oldest in all of Australia.
Below is a photoreport of the event.