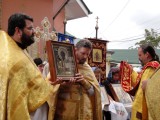 On 6/19 December 2012, the feast day of Saint Nicholas, Archbishop of Myra in Lycia, the Saint Nicholas Cathedral in Brisbane – named in his honour – celebrated it's Parish Feast Day.
The Divine Liturgy was concelebrated by all of the clergy of the Queensland deanery.
Please find below a photo-report of the day.