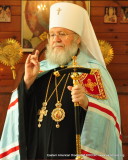 Beloved in Christ, the clergy and faithful of the Australian & New Zealand Diocese,
Greetings in the name of our Lord and Saviour Jesus Christ!
Through circumstances beyond my control, I am unable to visit the Diocese at the end of this month and for most of July, as I had planned.
I have asked His Grace, Bishop George of Mayfield, my vicar bishop in the Eastern American Diocese, to visit Australia in my place and to celebrate the divine services in our churches, especially those that will be celebrating their parish feast days.
Bishop George is a much respected and loved hierarch of our Church in the United States. He lived for many years in Holy Trinity Monastery in Jordanville and is well known to many of our clergy who studied at our seminary at the monastery. Vladyka George now heads the Holy Cross Monastery in West Virginia.
+ Metropolitan Hilarion
---
Download Bishop George's Schedule: