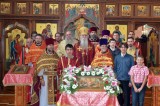 The parish of Saint John the Baptist in Canberra celebrated its feast day on the second Sunday after Pentecost. The Divine Liturgy was celebrated by His Grace Bishop George of Mayfield together with Archpriest Alexander Morozow, the rector of the parish, Archpriest George Lapardin, Hieromonk Sergius (Shatrov), Priests Alexander Korjenevski, Alexander Borodin, Seraphim Slade and Protodeacon Alexander Kotlaroff.
2013 is a particularly special year for the Canberra parish as it marks a number of anniversaries:
• the 50th anniversary of the founding of the parish,
• the 100th anniversary of the founding of Canberra, and
• the 1,025th anniversary of the Baptism of Russia.
Following the Divine Liturgy a festive meal was held in the parish hall which was attended by an official guest, Ms Gai Brodtmann MP, Federal Member for Canberra. During the speeches, Fr Alexander Morozow was awarded the Order of St Anna from the head of the Russian Imperial Family, Grand Duchess Maria.