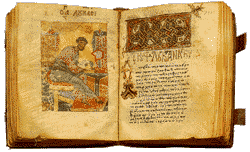 The Prologue from Ochrid, the Lives of the Saints by Saint Bishop Nikolai (Velimirovich), is now once again easily accessible.
The Life of Saint John, Archbishop of Shanghai and San Francisco is now also easy to access.
The Lives of Saints is listed as a separate item in the "SECTIONS" menu at the top left corner of this website and contains links to both the Prologue and the Life of Saint Archbishop John.
The Prologue is also listed separately in the "SECTIONS" menu.
Alternatively, click here to be taken directly to the main page for the Prologue or click here to read the Life of Saint John.