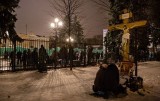 Высокопреосвященнейший владыка Иларион издал указ, согласно которому во всех монастырях и приходах Австралийско-Новозеландской епархии следует возносить за богослужениями следующее прошение:
"Еще молимся Тебе, Господи Вседержителю, о еже умирити сотрясаемую междоусобною бранию мать градов русских Киев, и всю страну Киевския Руси, силою благодати Пресвятаго Твоего Духа, погасити всякую ненависть и ожесточение, благости Источение и человеколюбия Пучино, скоро услыши и, яко милосерд, помилуй".
____________________________________________________________________________________
In light of the violence and civil unrest in Kiev and throughout Ukraine, His Eminence Metropolitan Hilarion, First Hierarch of the Russian Orthodox Church Outside of Russia, issued the following call for peace and calm:
"As faithful children of the Russian Orthodox Church, we cannot remain indifferent to the troubles plaguing Her cradle – the Mother of Russian Cities, Kiev. We call on all of the faithful of the Russian Church Abroad around the world to pray for the cessation of all violence, that God might prevent all bloodshed and speedily restore brotherly love and understanding."
His Eminence further decreed that all parishes and monasteries of the Australian & New Zeland Diocese add the following petition to all augmented litanies at Vespers, Matins, and the Divine Liturgy:
"Again we pray Thee, O Almighty Lord, that Thou mightest grant peace to Kiev, the Mother of Russian cities which is shaken by civil strife, and the entire country of Kievan Rus', and by the power of the grace of Thy Holy Spirit extinguish all enmity and violence therein; O Source of goodness and Abyss of love for mankind, quickly hearken and have mercy."
A printable version for insertion in service books is available here.