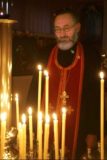 Сегодня рано утром после тяжелой продолжительной болезни отошел ко Господу настоятель Свято-Скорбященского храма, в г. Джилонг, Протоиерей Симеон Кичаков.
Вечная память новопреставленному!
This morning just after midnight the rector of Joy of All Who Sorrow parish Geelong, Archpriest Simeon Kichakov reposed in the Lord following a long illness.
Memory eternal!