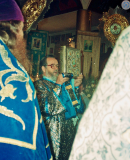 On Thursday, 24 August 2023, at the age of 86, Protodeacon Peter Metlenko, a former cleric of the Holy Dormition Church in Dandenong, reposed to the Lord.
The funeral service of the newly departed was held on 29 August 2023 at St. Vladimir's Church in Sydney and the burial took place on 31 August 2023 in Springvale Cemetary VIC next to his matushka Elizabeth.
We express our sincere condolences to his family and may the Lord God grant Fr Peter the Kingdom of Heaven!
A brief biography can be read here.