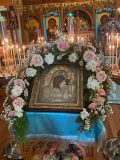 On Saturday, 4th November 2023, the great feast of the Kazan Icon of the Mother of God, His Grace Bishop George of Sydney Australia and New Zealand together with His Grace Bishop Siluan of Australia and New Zealand, Serbian Orthodox Church, celebrated the Divine Liturgy at Our Lady of Kazan Convent (also known as "Novoye Shamordino") in Kentlyn – located 57 km West of Sydney.
Co-serving with the two hierarchs were clergy from the Sydney ROCOR deanery, the Serbian diocese and Moscow Patriarchate diocese.
The Chruch was full of the faithful who gathered from all over Sydney, Canberra and Brisbane to celebrate this wonderful joyous occasion. All of the attendees received the Holy Communion.
Following the liturgy, a moleben and procession of the cross around the church was performed, after which a celebratory trapeza was offered.