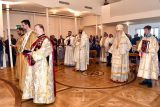 On Sunday, 28 March 2021, the second week of Great Lent, His Grace Bishop George of Canberra was invited to concelebrate the Divine Liturgy with His Grace Bishop Siluan of Australia and New Zealand of the Serbian Orthodox Church at St. Sava's College, Varroville NSW.
Co-serving with the hierarchs were clerics of the Serbian Orthodox Church Archpriests: Nikola Bilić, Sasa Stojanović, and Goran Ćećez, Protodeacon Petar Mrakić, Deacon Miloš and Protodeacon Alexander Kotlaroff cleric of St's Peter and Paul Cathedral Strathfield (ROCOR). (more…)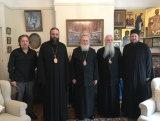 On Friday, 22 March 2019, His Grace Siluan, Bishop of the Metropolitanate Australia and New Zealand, Serbian Orthodox Church visited the residence of His Eminence Metropolitan Hilarion First Hierarch of the Russian Church Abroad in Sydney.
His Eminence Metropolitan Hilarion together with His Grace Bishop George of Canberra welcomed His Grace Bishop Siluan where they exchanged greetings and discussed Church matters of mutual concern. (more…)