An interview with the dean of parishes of the Russian Orthodox Church Abroad in New Zealand, Archpriest Vladimir Boikov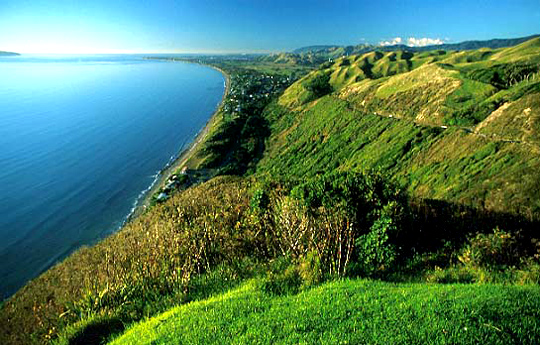 Photo: Peter Sundstrom.
We imagine New Zealand as a distant, fairy tale land at the end of the earth. Its landscapes have become known only recently through their depiction in the movies.
Nevertheless, few know that Orthodox parishes of the Russian Orthodox Church Abroad have existed here for a half century now. Other local Orthodox churches also serve the spiritual needs of their flocks in New Zealand. Today we are speaking with Fr. Vladimir Boikov, a recent guest of Sretensky Monastery, about the Orthodox Church today, the Russian diaspora, and the spiritual problems of New Zealand society.
*   *   *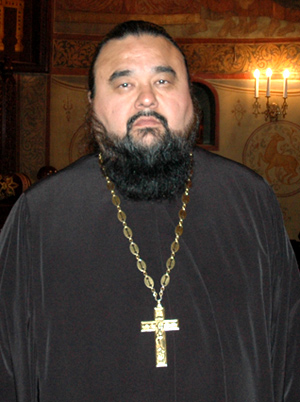 —Fr. Vladimir, what is the Russian Church like in New Zealand; how is it administratively organized in that distant, seemingly exotic land?
—We are part of the diocese of Australia and New Zealand of the Russian Church Abroad. The majority of the Russian flock in our diocese lives in Australia. There are especially many people from Russia and the former USSR in Sydney.
There have always been fewer Russians in New Zealand. The main wave of Russian immigrants came after the Second World War. These were people resettling from Europe and China. Russians came from China in the 1950's–1960's, first to Australia, and then some families reached New Zealand. Nevertheless, with time the majority of them returned to Australia, influenced by familial ties and the particularities of life in New Zealand.
—In other words, we can say that the Russian diaspora in New Zealand appeared during the period after the Second World War?
—Yes. Especially many Russians appeared in Australia, and as I said, significantly fewer in New Zealand. The first Russians who came to that country founded three of our parishes. The problem is that there have never been sufficient resources to cover New Zealand in our diocesan center; and, as I think, also because the question of support for parishes and missionary work has never been seriously raised, even by the Russian Orthodox themselves. That is my personal opinion.
In New Zealand there was one Russian priest who came, as did many others, from Australia, from the resettlers' camp. He himself was a very interesting man—Fr. Alexei Godyayev. If I am not mistaken, he departed to the Lord in 1989. When we travel from Auckland to Wellington, we always stop at his grave in the cemetery and serve a pannikhida. He and his matushka, Anna, are buried in the cemetery in Wanganui. In the early 1950's, he came and established himself in this little town of Wanganui. He lived there because it was a center of the milk industry, or more precisely, the cheese industry. Fr. Alexei was a chemist, and he is now famous in New Zealand as one of the founders of our cheese-making. He studied bacteria that is used in the making of cheese, and made a great contribution to the development of the production of famous New Zealand cheeses.
He was a true scholar. I read his letters to the bishop in our diocesan archives in Sydney. He related very seriously and conscientiously to his work, and was very busy, because the cheese industry was only just beginning then. It is now an hour's drive from Wanganui to the capital city along a good road, but the conditions were worse then. But he would travel on the weekends to serve in Wellington, where the Russian Church Abroad had a small parish. Now, just as then, the Russians are concentrated in the three largest cities. These are the capital, Wellington, the large city of Auckland on the Northern part of the island, and on the southern part, the city of Christchurch, where there was recently a strong earthquake. Three parishes were built in these cities at the initiative of Fr. Alexei and certain other people. In Auckland, we have the Resurrection parish, in Wellington is the church of Christ the Savior, and in Christchurch is the church of St. Nicholas.
These parishes are still active. We also had a small mission dedicated to the Archangel Michael in the town of Palmerston North. It was centered around a chapel built in the backyard of one of the parishioners, and certain services were held there. We served there once every few months on Saturdays, when we would go to Wellington. But we have not served there for two or three years now; we don't have the time or the energy to do it. The Orthodox woman who owns that chapel is now in the hospital.
In the 1980's, when Fr. Alexei Godyayev retired, a new priest from Australia was sent to us for two or three weeks every two months. This responsibility lay upon five or six priests, mainly from Sydney, and one would come from Melbourne.
Thank God, that in the 1990's serious attention was given to services in New Zealand, and a permanent priest was sent.
The community grew during those years. At the beginning of the new century, there was a wave of immigrants, and Metropolitan Hilarion, before he became the First Hierarch of the Church, decided to send me here as rector of the parish and dean of the parishes of New Zealand. I have been serving here for six years. Parish life is steadily becoming stronger here. This can particularly be felt in Auckland, because we have a second priest. In Wellington and Christchurch it is less perceptible, but there is serious growth, nonetheless. There are people who relate seriously to parish life. These are regular parishioners, who frequently confess and receive Communion.
—Tell us more about your service there today.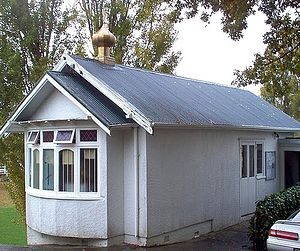 —I am the rector of the Resurrection parish in Auckland, the rector of the church of Christ the Savior in Wellington, and the dean of the Russian Orthodox parishes in New Zealand. We have a second priest serving in Auckland—Fr. Evgeny Kulanov. He has been serving for four years now, and we try to serve according to our strength, more and more intensively. Usually I serve the Liturgy for three weeks in Auckland and one in Wellington.
Since Fr. Evgeny was ordained, we have services in Auckland regularly. It is very rare that we do not have services during weekdays. In Wellington, we are now serving twice monthly.
But the strongest parish we have in New Zealand is the Resurrection parish in Auckland, because most of the newly-arrived Russians live there. Auckland is the largest city in the country, and it is easiest to find work there. A third of the population of New Zealand lives in Auckland.
We have a third priest, Fr. Arkady, who serves in Christchurch. There are great problems there after the earthquake. The church, thank God, was not damaged, only some cracks, but during the earthquake some icons fell… Anyway, the services are still being conducted.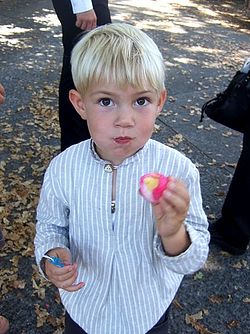 We organized a Russian school in Auckland. It is run at the church, but the classes are taught in another town, where there is space in a building. It has become very popular. It is not a Sunday school , but a Saturday school—the lessons and meeting take place on Saturdays. The difficulty lies in the fact that some people who have to spend time getting their children to school on Saturday then find it hard to get to church on Sunday for services. This is a Western illness: I came once; why should I come a second time? And the school is viewed as a participation in one's cultural traditional life, part of which is considered also to be the Church.
Of course, we would like to have lessons after the Sunday Liturgy, but that is not possible right now. We recently had a picnic for the parents and children of our Russian school. Eighty-five people participated. That is very good for such a school. Our second priest is the school's principal. I see that many young families have begun to associate with him more actively. Unfortunately, there simply isn't enough space in the church for everyone. On Sundays, many people have to stand outside the church. Some do not want to come to church and stand outside, especially since the church is surrounded by cars. Thus, the current inconvenience prevents people from freely coming to pray. Of course, this needs to be addressed.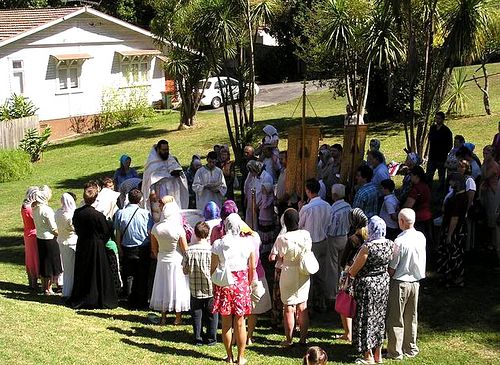 The land on which our Resurrection church stands was donated by the daughter of the last Tsarist governor of Tver Province, who bought a few parcels of land in the center of Auckland, and donated one of them to the Church under the condition that a church be built there. The church was built, but it is small, because there were only 20–30 families there at the time, they gathered for services about twice a month, and so a large church was not needed, although the parcel is large.
We are still serving in this small church—20–30 square feet. On Holy Saturday, we had 135 communicants. People had to stand out on the street during the services. This is very inconvenient.
—Could you tell us about the recent earthquake and its consequences? How did this affect the life of the Russian community? We know that it was a great catastrophe, with many victims.
—The city of Christchurch really did suffer much damage. Almost the entire downtown area was destroyed, and the roads were closed… People's spirits fell. Some Orthodox families left altogether, some intend to leave forever, while others only left temporarily.
We had never experienced anything like it. The city was a closed zone for two months. Now many who have left are re-thinking their life plans. It is hard for people to stay there, where underground shockwaves are felt almost daily. From September 2010, when the earthquake happened, to February 2011, when there was another strong earthquake, there were 4,000 shockwaves. Now they are happening almost every day, several times a day.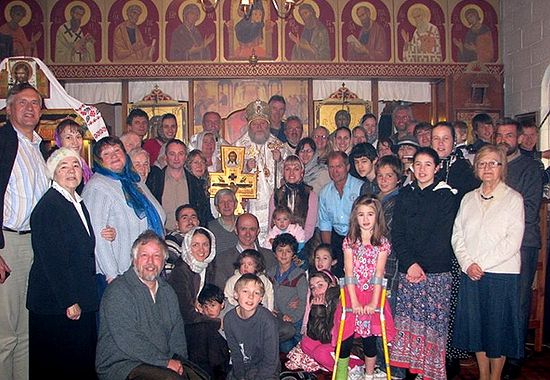 Metropolitan Hilarion in Christchurch, Bright Saturday, 2011.
On Bright Saturday, Metropolitan Hilarion and I served Divine Liturgy in Christchurch, to support our faithful there. Vladyka himself wanted to go to Christchurch, serve, and pray with the Orthodox of that city. There were many people at the services, and all received Communion. The service was very touching. We flew in at seven in the morning, and literally before our arrival, there were two strong 5.3 aftershocks. This is frightening, of course. People are in constant tension, waiting for the next shockwave.
During the first earthquake, in September 2010, there were no deaths; during the second, in February of this year, over 180 people died. The first earthquake happened at night, and there were few casualties, while the second happened right during the workday, and many people who were at work or in school perished. In the English language school, over 100 people died.
Incidentally, after two earthquakes in Christchurch, twenty-four Anglican churches suffered. They have about fifty or sixty parishes in that diocese. These twenty-four churches are now closed due to the damage.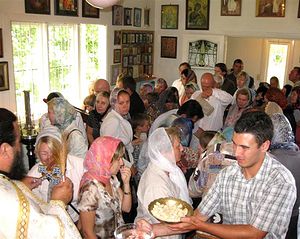 —Approximately how many Russians and people from the former USSR now live in New Zealand?
—In fact, it is hard to count them all. Almost all of the old Russian immigrants are gone—the descendants of those who came from Europe and China. Nearly all of them left for Australia, or have completely assimilated into New Zealand society. The fact that divine services were served infrequently is partly to blame. From the 1950's to 1980's, one priest took care of three parishes, and travelling around the country was much harder in those days. On the weekends, he served in Wellington, twice a month he went to Auckland, and he travelled to Christchurch twice a year.
In general, there has always been a tendency here to go to Australia, and this goes on today. People use their residency rights in New Zealand in order to get to Australia. They come to New Zealand, live a while, receive their residency permits, and then go to Australia.
I would say that currently in Auckland there are from seven to ten thousand Russian Orthodox people who arrived after 1990. In Wellington there are probably 1,000–2,000, in Christchurch there are much fewer—around a thousand.
—What do the Russians in New Zealand mainly do?
—That is a very interesting question. It is also one of our problems.
We won't talk here about the immigrants from the older generation, who have completely adapted, become New Zealanders, have professions, and a stable social standing.
If we speak of the majority, then those who came in the 1990's intended to work in their professions. These were scholars, doctors, engineers, and specialists in general. They thought that they would come to this fairy tale land, would be given jobs, and everything would be fine. I think New Zealand itself also counted on this, to a certain extent. But in the end, it turns out that there is a serious language barrier, and New Zealand did not fully recognize the soviet diplomas and degrees. They had to learn the language and pass qualification examinations.
Not many who had studied for years in their homeland and then achieved some success in their fields were ready to tackle this serious and sometimes humiliating work. These educated people would sometimes have to do menial labor: dig ditches, paint houses, make repairs, adapt and earn money in whatever way they could. This reflected itself in parish life. Many were "lost" because they had to work on Sundays.
At the beginning of this century, the situation has changed somewhat. People have arrived who already know English, although the level itself of professionalism has fallen. Many have come on student or other visas, in order to somehow catch on and remain living in New Zealand.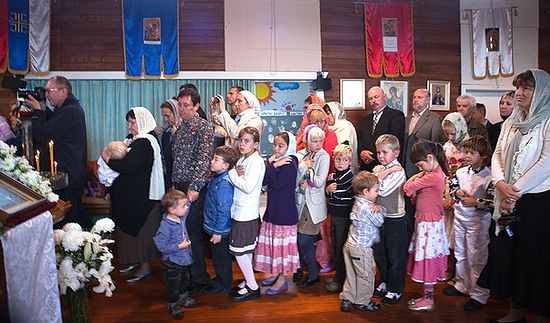 Many of our parishioners are preoccupied with serious life problems. Now, people often come to church and ask for molebens to Blessed Xenia of Petersburg, so that she would help them find work, or obtain their [residence] documents. And she really does help many people. I myself believe in this, and call all to pray to her, because I myself feel great help from St. Xenia.
People who have turned up here live far from our Russian culture and the traditions of our Orthodox Church. This isolated life is also one of our most serious pastoral problems. Now with all the means of mass communication and information, the world has become nearer in some respects; but even so, we feel we are far removed from everything.
Returning to what our immigrants are doing, I will say that there are those who have gone through all the necessary procedures needed to enable them to work in their professions. I know doctors who have confirmed their qualifications in New Zealand. True, there are only four. It really is a difficult path. One has to completely reorient himself and become a student again, pass exams. Then, perhaps a person was a head doctor in Russia, but here, even after having received the corresponding registration, he has to work at night, do the grunt work, work on weekends, and so on. What head doctor will want to work on Saturday night or Sunday morning when he comes to the "land of milk and honey?" So, this is also one of our pastoral problems.
Another pastoral problem is that there have been many marriages arranged over the internet. In New Zealand, agriculture is well developed. We have many large farms, located far from the cities, and sometimes it is hard for a farmer to find a wife. Many use the internet to do this. They specifically look for Russian sites, meet someone, pay a lot of money, do all the paperwork, invite their fiancés, and register their marriages. However, the women from Russia come to us without a thorough understanding of the land they are coming to, and what awaits them there.
I believe that this social phenomenon has done much harm to our Russian Orthodox society. Especially to the women. They come, for example, from Moscow or St. Petersburg, and find that they are not able to become simply wives, to live in the backwoods of New Zealand, where no one speaks Russian, and there are no women friends or acquaintances. They fall into depression, and their husbands don't understand them. This all leads to personal tragedy.
When I came to Auckland in 2005, we opened the church twice a week: Wednesday mornings and Friday evenings. People, mainly women, came and placed candles. I specially sat near the candle table and talked with those who came in, asked their names, and where they came from. Very often, I would listen to the first twenty minutes of their ecstatic tales of how great it is in New Zealand, but when the conversation would reach the heart, the women would simply begin sobbing. They came here with their dreams about how their husbands would make their lives so special, that they would love each other, and that they would be living in an earthly paradise. But their husbands cannot relate to them normally. They don't understand each other. Then arguments begin, and scandals.
The thing is that the Western culture of Australia and New Zealand is something quite particular. It is not even the U.S.A. I can say this quite definitely, because I myself am an Australian, and was born in Australia.
Now the wave of such people has waned. I think that there are a great deal fewer of these "internet marriages." Their peak was in the late 1990's, but now the New Zealand men themselves understand that this is a mistaken practice.
There are, of course, parishioners (now the majority), who work in their professions and have work where their profession was needed, and so their work is more or less pleasant to them. Most of the women are accountants, and work somewhere in accounting departments, in hotels or other companies. The men are mainly electrical, construction, or other sorts of engineers.
The majority of parishioners are still not able to buy their own homes, to fulfill their dream of having their own living space. Many rent apartments. Nevertheless, they are very conscientious about their work and their spiritual lives. This is very perceptible—a spiritual upsurge. Our church in Auckland has once more become a center of Russian life for those people who need it; and glory be to God!
—How else is the Orthodox Church represented in New Zealand? Are there other national Churches there?
—Yes. The largest in number of parishes is in the Greek Church, Constantinople Patriarchate. Greeks and Arabs were essentially the first Orthodox people in New Zealand.
The first parish was founded by Orthodox Lebanese and Arabs at around the beginning of the 20th century, in the town of Daniden, on the very southern tip of the island. Then the Greeks began actively immigrating after the Second World War, like our Russians, and settled mainly in Wellington. The Constantinople Patriarchate is the only national Church that has its own bishop in New Zealand. This is Metropolitan Amphilocheos of New Zealand and the Pacific islands. He is an active missionary. He has been laboring for the second or third year on Fiji Island, where he has built a church, and already has several priests from amongst the local population. He spends the greater part of the year there. Vladyka Amphilocheos was earlier the archimandrite and abbot of monasteries on Rhodes. After becoming the bishop of New Zealand, he also retained the abbacy of the Rhodes monasteries, and he goes there periodically to spend some time.
The Greeks have established four or five missionary parishes over the past two years in New Zealand, and in one place, they have even purchased an old Anglican church, where one hieromonk now serves. Vladyka Amphilocheos has five or six clergymen. They have a small monastery, in which they recently constructed a church. Vladyka is a strong, experienced spiritual father, he has spiritual children all over the world, who actively help him in all his missionary endeavors.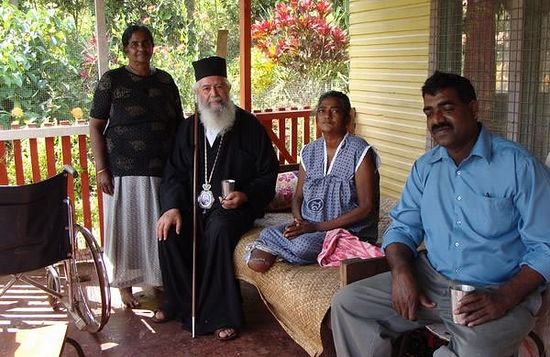 Metropolitan Amphilocheos with an Indian family. Photo: www.ecp-metnz.org.nz
You rarely meet such a selfless attraction to missionary work in our Western world. Vladyka labors on Fiji Island, where it is hard for a Westerner just to live because of the climatic conditions. There, it is not only hot; it is very humid and stifling. The ordinary clothing of a Fiji Islander is a tee shirt, shorts, and flip-flops. But Vladyka Amphilocheos always wears a Greek ryassa and klobuk, and serves in full hierarchical vestments.
There are also three parishes of the Serbian Orthodox Church. The strongest parish today is in Auckland. They recently purchased an old Presbyterian church. We had our Paschal services there with their permission, because we don't have enough space. Those living in Auckland are almost all refugees from Kosovo. The SOC has also established itself in Wellington. They have the largest church there, but there are few older Serbian immigrants, while the majority of new ones live in Auckland. They have the same problem as we have with the newly-arrived: difficulty with the language, and the lack of acceptance of their degrees and qualifications.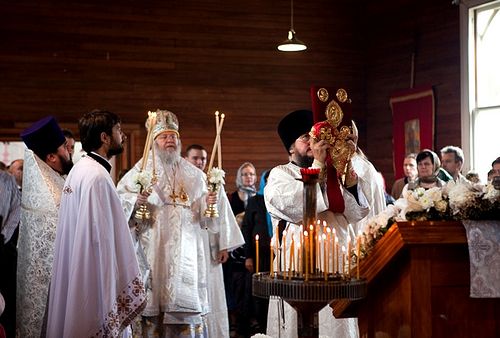 Metropolitan Hilarion serving in the Serbian church, 2011.
The Serbs also have a small community in Christchurch. They live together, side-by-side with Russians, serve in the same church, and this is very pleasant. Fr. Liubomir comes to them from Wellington and serves with our priest on Sundays, they are friends, and it is very nice to see how we, who are living far away from our homeland, help and support each other. Some Romanians come to us in Oakland (fewer now that they have been sent their own priest), Bulgarians come (they do not have their own church or priest), as well as Macedonians.
In connection with the Serbian Church, I would like to recall one born New Zealander who converted to Orthodoxy and a became monk in the monastery of Kovil. He labored in monasticism in Serbia and was a brother in this monastery, located not far from Novi Sad. He departed to the Lord not long ago. This Fr. Savva was from Hamilton, and he used to come to our services. He was a very kind man.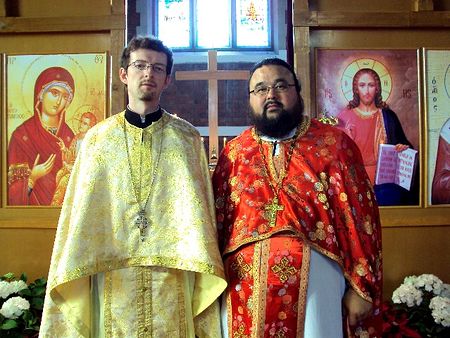 Archpriest Vladimir Boikov and Fr. Emannuel, rector of the Romanian church in Christchurch.
There is also the Romanian Orthodox Church. The new Romanian bishop of Australia and New Zealand, Michael, is young, very energetic, and of a missionary spirit. He has already established four priests in New Zealand. There are fewer of them than there are of us, but they relate very seriously to themselves. I very much like the spirit of the Orthodox Romanians. They have services in Auckland, in the small town of Hamilton, in Wellington, and in Christchurch. The Romanian government helped them purchase an old Anglican church in Christchurch. It was in poor shape, but they serve in it nonetheless. During the first earthquake, some bricks fell, and the church was closed; during the second earthquake, two-thirds of the church collapsed. Thank God, they were serving in their hall at the time and no one was inside the church. We concelebrate with them when there is a feast, inviting invite each other.
There is also the Antiochian Church here; it has several parishes, which serve mainly in English. They also conduct missionary work amongst the New Zealanders.
—What is unique about missionary work in New Zealand?
—It is very hard to do missionary work with the New Zealanders, just as it is in Australia. They are absolutely different people from, let's say, Americans, never mind Russians. An American, for example, seeks something. That is why they have so many sects, protestant [denominations], and churches are founded by the thousands—they are always seeking something. Australia, however, and even more so in New Zealand, there is a completely different situation.
—They are not seeking anything?
—No, they are seeking, but what are they seeking? They are seeking the beach, soccer, beer, and television. In New Zealand, on Saturday evening everyone should be at a rugby game, or watching the match on television. If it is not rugby season, then cricket, or some other sport. Sport is a very strong thing, and everything is based upon it. Drinking beer is also nearly a religious act. The beach and vacationing are also. Every New Zealander tries to have his own dacha. This is often a small hut somewhere by a beach so that he can go there on weekends, forget his cares, shut himself up in it, swim, lie around, read the paper, and then return to the everyday world late Sunday evening.
—Apparently the climate, conditions, and standard of living have such a relaxing effect?
—I would say that this relaxation, worldliness in spirituality is especially felt amongst the Catholics and Anglicans. Perhaps they themselves do not understand this, but certain older, more conservative Catholics and Anglicans do understand why there are so few people in their churches.
How to they adapt to life, if that is how it is? How do their parishes continue to live? Every parish opens its door to other religious groups. For example, next to our parish is a very beautiful church dedicated to the martyr Alban. It has one of the oldest and largest organs in New Zealand, but they do not use it, because there are only about fifteen traditional Anglicans left in the parish. On Sundays the church fills up five different times—after the Anglicans come some island Christians, then once or twice a month come some Indian Thomasite Christians, then someone else. Thus, from eight in the morning to six in the evening, their church is busy, but not only with Anglicans. Those who use the church pay the Anglicans some rent. They are in a pitiful condition, they have no money to repair the churches, because there are no parishioners. They often rent their buildings.
Our Serbs who bought the church served very often in the hall of the Anglican church. At that time, they had six groups who used this church and its property on Sundays. This is something very widespread now, due to the decline in faith and religious life. Every church is used for some other, even non-religious, purpose. Either bingo, or dance, karate, or something like that—just in order to support that church.
—How does the institution of the traditional family stand in Russia?
—I would say that the immigrants play an important role in this. Indians, for example, have a very strong family institution, as do the Chinese and Moslems. Our Cook Islanders also have strong families. (They once lived under the government of New Zealand, and so now easily receive residency permits, and are preferred ahead of other emigrants.) These are very religious people and very traditional. When you drive past their churches on Sunday, everyone is dressed in white suits. They have very open souls, are simple, and very pure. My matushka worked with sick children in a school where they teach children with cerebral palsy, and there were very many aides from amongst the Islanders, because they have soft hearts. In every class there are several children and several aide. The majority of these aides were these Cook Islanders.
The Maori also have a strong traditional family institution. This is called in Maori, "faneo." This means not only your own personal family, but also your common family; the concept extends even to the tribe. Everyone is obligated to help each other. The problem lies in something else. It is hard to talk about this because of political correctness, but the Maori and certain other islanders have a problem with crime. They themselves war with this, but because their young people rarely finish school, these problems arise. They work at the most simple jobs, have too much spare time, and, of course, they have an inclination, like other natives (American Indians, Australian Aborigines) toward alcohol and drugs. This is something that happens all over the world: natives always suffer more from these Western illnesses than the Westerners themselves.
—Do you know at least one Maori in New Zealand who converted to Orthodoxy? Are there any plans for missionary work amongst them?
—I have not yet heard of a single Maori who has become Orthodox, but the Divine Liturgy of St. John Chrysostom exists in the Maori language. We have not celebrated it because none of us know this language. The translation was made by a priest in the Antiochian Church, but he is now serving in Alaska, if I am not mistaken, in the OCA. I do not know how complete it is.
—Thank you, Fr. Vladimir.
Interviewed by Hieromonk Ignaty (Shestakov)
Translation by OrthoChristian.com
09 / 06 / 2011
Source: Pravoslavie.ru