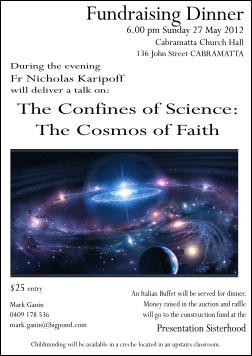 The next fundraiser to benefit the construction fund at the Presentation Sisterhood will be held in the Cabramatta Church Hall on Sunday 27 May 12 starting at 6pm. Abbess Anna will be present and Fr Nicholas Karipoff will give a talk on "The Confines of Science: The Cosmos of Faith'. Afterwards an auction and raffle will generate the profits and I will have lots of spot prizes to keep the crowd entertained. Entry is $25 per head and dinner will be an all Italian Buffet. I will also use this function to launch another major initiative.
To make this event parent friendly, a crèche will be set up in an upstairs classroom.
In 2011 we raised $19,000 and in 2012 I should like to break through the $20k barrier; therefore, your attendance at this function can help achieve this.
Construction has commenced on the accommodation blocks at the Sisterhood and progress is being made as a result of funds raised at previous functions.
Thank you and I hope to see you there.
Mark Ganin
(02) 9891 4961
0409 178 536
mark.ganin (at) bigpond.com