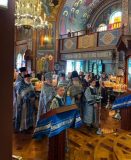 It was quite a cool morning and the lesser blessing of water was held outside at 8am presided over by the rector Archpriest Boris Ignatievsky.
The greeting of his Grace Bishop George of Sydney Australia and New Zealand was at 9am followed by a heartfelt and uplifting liturgy.
It was wonderful to concelebrate the liturgy with priests from other parishes in the diocese. Those in attendance were Archpriest Nikita Chemodakov Dean of New South Wales and the Australian Capital Territory rector, Saint Nicholas Church Fairfield, Archpriest Nikola Belich of the Serbian Orthodox Church, Archpriest Boris Ignatievsky rector, Archpriest Alexander Korjenevski rector, Saint George Church Carlton, Abbot Dorofei (Urusov) Cleric of Our Lady of Kazan Convent Kentlyn, Archpriest Dionisy Halim rector, Our Lady's Dormition Church Wollongong and protodeacon Vasily Konstantinidis parish deacon.