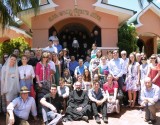 The 48th Annual Youth Conference was held in Brisbane this year from 27th to 31st December 2012. The theme of the Conference was "From the Womb to beyond the Tomb". The Conference venue was the Rydges Hotel in the Southbank district of Brisbane. This year's conference attracted attendees from the United Kingdom, Indonesia, Canada, United States, New Zealand and from all capital cities of Australia. 58 young people in total registered together with clergy from our Diocese. The clergy were headed by our own archbishop, His Eminence, Metropolitan Hilarion who attended the whole conference. Many young people living in Brisbane attended the organised functions and the lectures. Altogether there were 87 people who registered for the conference.
There were three organised lectures for Friday and Saturday. These were given by Fr Dimitri Tsakas, Archbishop's representative in Queensland for the Greek Orthodox Archdiocese; our own Vicar-general, Mitred Archpriest Michael Protopopov, and Fr Alexander Borodin, rector of the English-speaking missionary parish in Brisbane. Fr Dimitri talked to us about finding happiness in suffering, understanding what suffering is and what true joy is. Fr Michael explained to us the Orthodox Rites of Passage beginning from within the womb to beyond the grave. Father Michael also lent his considerable experience in appending his talk with snippets of pastoral practices and experiences. Fr Alexander talked about the relationship between Family and the Church and gave us a very warm personal example. 
A Vigil was served on Saturday night at St Seraphim's Parish where the Male Choir of Brisbane, led by Deacon Vladimir Bigdan sang. After the Liturgy on Sunday morning at St Nicholas Cathedral, which was celebrated by His Eminence, and concelebrated by all attending priests from Australia, Indonesia and New Zealand, with the deacons led by Protodeacon Alexander Kotlaroff. Directly following the conclusion of the liturgy a wonderful bell-ringing concert was given by the visiting master bell-ringer from Archangelsk, Vladimir Petrovsky. St Nicholas' parish had just recently acquired 8 bells from Russia and wanted to demonstrate to everyone present the beauty of this music. This concert turned into a type of lecture as all present were instructed by the presented information about bell-ringing and how it follows us throughout our whole life and this left an indelible impact on all those present.
After the bell ringing a festive luncheon was catered by the Sisterhood in the parish hall. Many warm words of congratulations were expressed and a very special 'Thank you' was reserved for Protodeacon Konstantin Semovskih, who assumed the burden of responsibility for organising and running the conference.
On the Monday morning, after breakfast, the conference concluded. Good feedback was received from the attendees for improvements for next year's conference. All those who stayed until the final day left with a warm feeling of brotherhood and of having partaken of something special.
Everyone wished each other good-bye and left hoping to see our friends again in December next year.