On Thursday 1 May to Sunday 4 May, St John the Baptist Parish in Canberra hosted the diocesan Choral Conference (Певческий Съезд). Video and audio recordings of the three key note addresses are available on the St John the Baptist Parish web site, along with photographs. Georgiy Safonov spoke on the life and work of Pavel Chesnokov, Abbot Sergei (Shatrov) on Znamenny Chant and Archpriest George Johnson on Orthodox Church Singing in English.
Also available are audio recordings of musical highlights from the All Night Vigil and the Divine Liturgy, in both Church Slavonic and English. Settings range from Znamenny Chat to modern arrangements and compositions, including those by Chesnokov and one of the conference's key note speakers, Archpriest George Johnson.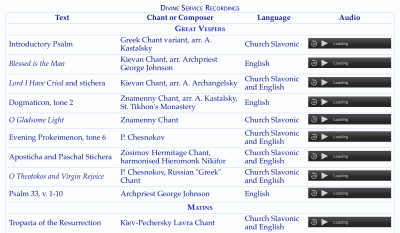 ОТ РАСПЕВОВ К ЧЕСНОКОВУ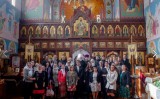 С 1 по 4 мая 2014 года в столице Австралии Канберре по благословению Высокопреосвященнейшего митрополита Илариона, первоиерарха РПЦЗ, прошел 7 певческий съезд Австралийской и Новозеландской епархии.
Певческие съезды стали доброй традицией в нашей епархии, их ждут с нетерпением и певчие и регенты, потому что они всегда проходят в неповторимой теплой атмосфере творческого общения и молитвенного единения. В этом году съезд впервые проходил в Канберре и впервые во время пасхального праздничного периода. На съезд собралось около 50 участников: регентов и певчих церковных хоров из Сиднея, Мельбурна, Брисбена, Аделаиды и Канберры. (more…)